Duct Balloon®
Inflatable Isolation Barriers - Since 1998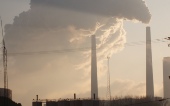 This is a "split doughnut" design Duct Balloon for use on a Axial Flow Fan application. It measures 15'2" OD (4.62m) x 6'6" (1.98m) ID x 3'0" (.9m) thick. It is used during maintenance of the fan and is wrapped around the fan discharge and then inflated using the supplied 120V blower. Many of these fans are not equipped with dampers downstream of the fan so the potential for back flow is present when one of the fans are taken out of service and adjacent fans are still running.
A Duct Balloon installed in this type of application can provide excellent sound absorption qualities when used in high noise environments. High noise levels that are generated in the area of out of service fans from the adjacent operating fans can be greatly reduced by using this type of Duct Balloon. They help increase the number of man hours that workers can be exposed to based on current man power availability to get the job completed.
*This is a new benefit that was relayed to us by American Electric Power during the 2007 AEP BRO Forum. When used in duct work during the maintenance of large ID fans, significantly lower sound levels can be attained when working in confined space areas
Here is a picture of two large axial flow fans being installed at a Midwestern power plant. Notice the man standing on a platform at the center of the fan. As you can see from this picture, these fans can be quite large!