Duct Balloon®
Inflatable Isolation Barriers - Since 1998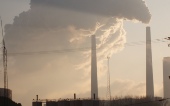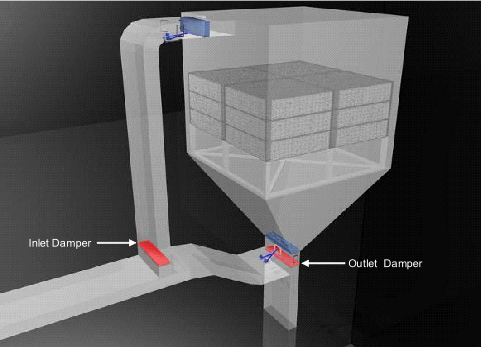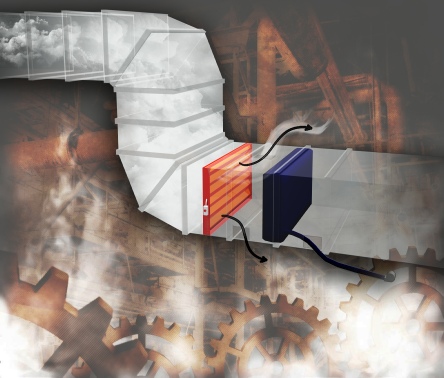 In recent years, many coal fired power plants have installed pollution control devices on their boilers known as Selective Catalytic Reduction Systems (SCR's). This equipment is installed as an integral part of the flue gas duct work. Large dampers are installed at the inlet and outlet duct work to provide a way to isolate the equipment during inspection and maintenance activities.
These large dampers are usually equipped with a seal air system and have various mechanical sealing methods to help provide a tight shut off. But over time, these seals lose their ability to provide a tight seal. Replacing them would require that the unit be shut down in order to change them out. As a solution to these leaky dampers, a Duct Balloon can be installed on the "safe side" of these existing dampers to help create additional sealing as shown in the artist rendering —>
As shown in the artist rendering lo the left , Duct Balloons are always installed on the "safe side" of the dampers. The space between the damper and the Duct Balloon should be ventilated by cutting access holes in the duct work to relieve any pressure that could build up in this area. This is known as "double block and bleed" and should always be incorporated when using any type of temporary barrier in this manner. Always consult your company's safety department or the person in responsible charge before making a decision to use ANY type of temporary barrier!
SCR catalyst materials can be very hygroscopic. Atmospheric moisture drawn by the hygroscopic characteristics of any accumulated fly ash can react with any fly ash already accumulated, and form a concrete-like coating on it and inside the catalyst elements.
Even though the balloon material can be rated to 500ºF (260ºC) insulation between the damper and the balloon may be required to protect it from any high heat surfaces for which it could come in contact.
The Duct Balloon is brought into the duct work at the desired installation location and placed into position prior to inflating it. Grab handles are sewn into the balloon to provide a means to maneuver it in place. The inflation tube is permanently attached to the balloon at a location specified by the customer, usually near the man way. The end of the inflation tube is then connected to the blower system, which is normally placed outside the SCR or FGD system on the floor grating. Once the blower is started the balloon will inflate in about 5-10 minutes depending on its size.
Duct balloons for these applications can be as large 20'0" (6.1m) high x 100'0" (30.48m) wide. But even a large Duct Balloon of this size could be made in sections with the weight not to exceed more than 100 lbs. (45.3 Kg.) per section. Each section could be made so that it would be able to be installed through an existing man way as small as 24" (609mm)x 30" (762mm).