Duct Balloon®
Inflatable Isolation Barriers - Since 1998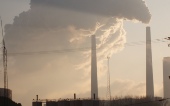 During maintenance of Calciners, Kilns, CFB's and other process vessels there is a need to protect workers from falling objects or need to control residual heat from adjacent equipment. Duct Balloons have been used successfully in both applications. For use as a debris barrier, we offer them in heavy duty nylon with an additional layer on the impact surface to help increase abrasion resistance. For high temperature applications such as heat barriers, we can offer them in Silicone Coated Fiberglass Fabric which is rated to 500ºF (260ºC) continuous rating. They can be provided in a special shape or sizes based on field measurements or plant drawings.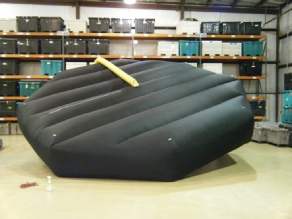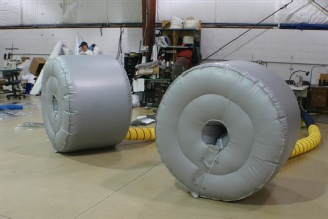 This Duct Balloon was used for preventing debris from falling down on workers during rock drilling in Indonesia. This shape is wrapped around the OD of the rock drilling shaft and was then inflated to fill the void between the drill shaft and the ID of the bore. It measured 5'0" (1.5m) round x 1'0" (.3m) ID.
This Duct Balloon was made to fit in an octagon shaped process vessel at a plant in Ireland. It was used to prevent small debris from falling on workers during maintenance of refractory linings. This one measured 18'0" (5.4m) across x 3'0" (.91m) thick.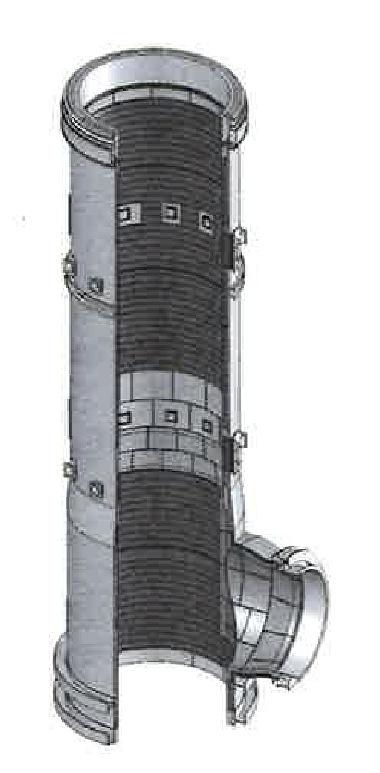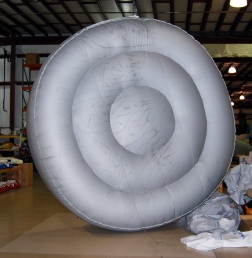 A large nickel mine in the Pacific Rim purchased specially designed Duct Balloons fabricated in our Silicone Coated Fiberglass Fabric and were used as a heat barrier during maintenance of their process vessels. These vessels operate at very high temperatures and it takes days waiting for them to cool down so that work can be performed on adjacent vessels and equipment. This design is similar to our Stack Balloon design and can be supported at the top of the vessel using a support rod and hanger cables. The Duct Balloons supplied on this project measured 8.8' round (2700mm) x 3.2' (1000mm) thick and 7.2' round (2200mm round) x 3.2' (1000mm) thick and were supplied with dual 220V-50HZ blowers for redundancy.